Writer, counselor, and healer Joanna Quargnali-Linsley's The Seasonal Table collection of cookbooks is now complete! Quargnali-Linsley believes food is medicine and encourages us to think about our physical and mental health in what we eat. In her series, she shares her favorite recipes throughout the four seasons. Follow along as we share one recipe a month in our blog, or get them all by purchasing your own copy of her books.
---
Coconut Crusted Chicken by Joanna Quargnali-Linsley
Crispy, juicy, delicious bites of chicken that can be served hot or cold, added to a sandwich, thrown on top of a salad, or just eaten by the handful cannot be beat.
I love making a giant batch of these and then watching them be the perfect snack or meal after pool trips, hiking, or gardening.
I love the way the coconut adds a hint of flavor, but a lot of crunch. And I love the way these can be just enough without feeling heavy or greasy.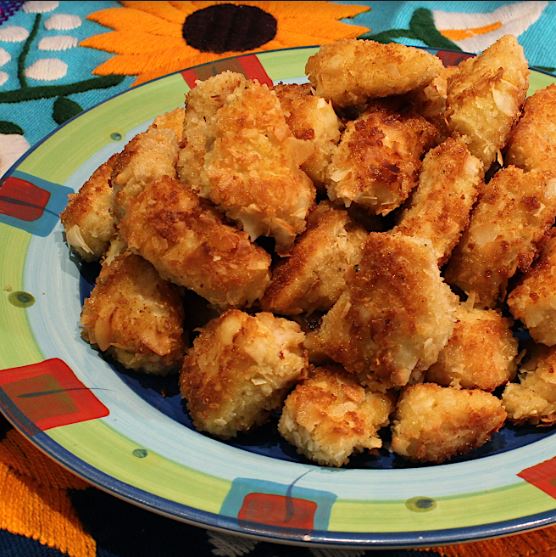 INGREDIENTS


¼ cup flour
1 ½ teaspoons salt
½ teaspoon black pepper
1 teaspoon freshly ground coriander
2 eggs
¾ cup panko (or other breadcrumbs)
¾ cup shredded or flaked coconut
1 ½ pounds chicken breast, cut into 1 inch cubes
Olive oil



DIRECTIONS


Preheat the oven to 250°F.  

Prepare the coating for the chicken in 3 dishes—I like to use pie tins for this. In the first tin, combine the flour, salt, pepper, and coriander. In the second tin, beat the eggs. In the third tin, combine the breadcrumbs and the coconut. Using one hand for the dry tins, and the other for the wet tin, dip the chicken cubes in the flour to coat them, then the egg, then the breadcrumbs and coconut. Set the prepared chicken aside and continue until all of the cubes are prepared.

In a large frying pan, add enough olive oil to cover the bottom of the pan and place over medium–high heat. When the oil is hot, fry the chicken in small batches. The chicken may not be fully cooked, but you want a nice brown crust on the cubes. When they are golden brown, place them on a paper towel to drain any excess oil. When all cubes are browned, place them on a cookie sheet in the oven for about 20 minutes. The chicken will be fully cooked, and retain the crunch from the initial frying.