Full Moon Blog

—

by Jill Kempner

Happy full moon earth angels. The full moon is a time of celebration, illumination, and heightened sensitivity. The full moon lights up your inner world showing you exactly what pain or fear needs to heal. As an earth angel you are consciously choosing to receive more love from your angels to heal pain, and this increases your sensitivity. Your increasing sensitivity is actually a sign of spiritual growth. As your sensitivity grows, you may observe how your intuition is heightened during the moon cycles. Each moon cycle offers an opportunity to receive even more angelic pain relief. 

Angelic pain relief is just a breath away, when you make the conscious choice to receive your angels' love. In my forthcoming book, Receiving From Your Angels, receiving is defined as the ability to allow, accept, and assimilate through your senses the angel medicine and messages in each moment. Receiving is simply creating space in your body and energy body, for your angels' love. There are many ways to receive, including through your intention, your breath, relaxation, and of course, your intuition. 

Receiving is not being overloaded with too much energy, absorbing the pains of others or rescuing. Receiving is a courageous and conscious practice because in order to heal the pain in your body, you have to allow that pain to surface. The human tendency is to hide, kill, or numb the pain, not open it up for healing. The practice of receiving is vulnerable because you have to be open, tender, and gentle to assimilate the unconditional angelic love into your personal pain.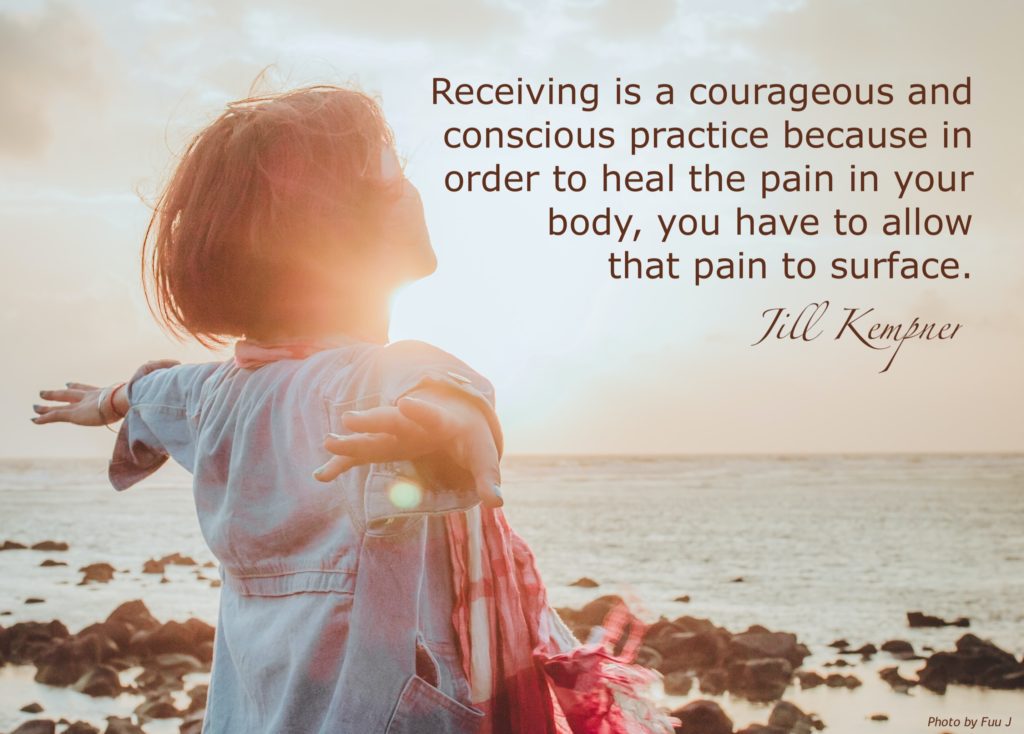 The number one fear of receiving is the fear of receiving something bad, scary, or painful. The fear of being too open, too sensitive, or too vulnerable and then something "bad" happening seems very real, and your angels have endless compassion for this fear. 
The angels say, when fear is ready to release it shows up as pain. When your pain or long-held pattern gets louder, as it can during the moon cycles, this is a sign it is ready to release completely. The full moon may feel intense because it illuminates the point of pain so your angels can access it. The angels remind you that your pain is a portal for their love to flow in. If your body is in pain it is not betraying you, it just needs more love. Your angels encourage you to trust that you are safe to face the pain—or fear—by seeing it through the eyes of your guardian angel.
The focus of my book is receiving, however it's the last practice in my book because you have to first build a strong foundation to ensure the highest level of long lasting angelic pain relief. Your angels know the pain you are experiencing is very real and they will never judge your pain. As you renew your devotion to receiving their love, make time to flow through the levels of relaxation, and intentionally release your fear and pain, you increase your capacity to receive their healing love. 
If you are ready to release pain with angel love, hire me as your angel coach. You can schedule a free one-hour breakthrough conversation with me by answering the questionnaire on the 'start here' tab of my website. In this free BTC I will help you get clear about the source of your pain and share your customized angelic pain relief plan. 
All my love and full moon angel blessings, Jill