by Isabelle Paquette
I began my internship at Inspirebytes Omni Media with a desire to learn, grow, and challenge myself in both the editorial and marketing spheres. I had never worked for a publishing company before, let alone one that focuses on empowering new voices and affecting positive change within its community. In my interview with IOM's founder, Martina Faulkner, I remember her telling me that my work would be challenging, requiring a lot of multitasking and organization for different types of projects. But the most important thing she wanted me to remember was that this experience is what I make of it; it's for me to challenge myself, ask questions, expand my skills, and even make mistakes.
Every day of my internship experience, I learn more about what it means to be part of a team while simultaneously working on my own schedule. One of the best things about being an IOM intern is that there really is no typical day of work. There are always new projects, meetings, and assignments on my calendar. With that being said, I thought I'd walk you through a "typical" productive "Day In The Life" of being an IOM intern: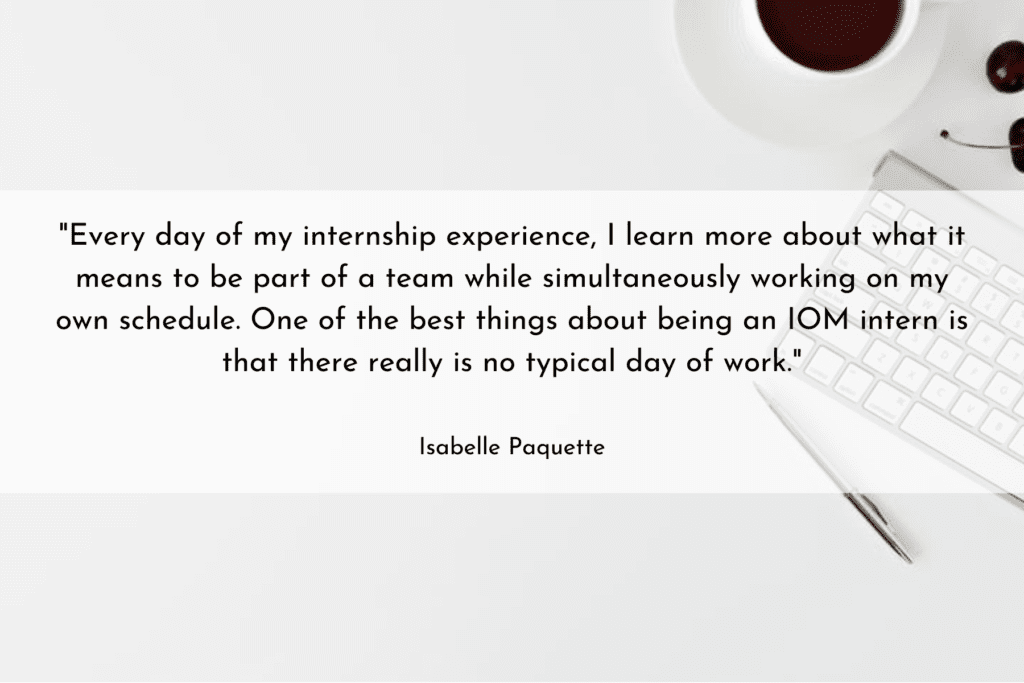 8:00AM — I aim to get up early so I can get a head start on looking over my assignments for the week and finalizing anything that's of high importance. Most often, I take this time to focus on IOM's social media platforms and make sure I've completed any posts for evergreen content (not time-sensitive), as well as promotional/marketing content. Sometimes I have scheduled meetings with Martina to discuss individual projects on the various books I've been assigned to.

10:00AM — On Mondays, I have my weekly social media meeting with Ari, IOM's Social Media Manager, to discuss our digital marketing plan on our platforms for the next two weeks. This meeting usually lasts an hour, as we break down what needs to be created within the time frame, such as promotions, talent highlights, and evergreen content, as well as which assignment is assigned to who. Additionally, we discuss future goals of IOM's social media presence, and what ways we can develop our brand further that are exciting for our audience.

12:00PM — The middle chunk of the day consists mainly of meetings between either the IOM team, my co-interns, or the talent. Every Wednesday we have a weekly interns' meeting to review our group projects and make progress on developing and facilitating them, including: educational classes for talent, and an interns manual. In shared documents, we each contribute our insight to different aspects of each project and work together to finish our projects, which will serve to support IOM as it continues to grow.

1:30PM — On Thursdays, we have our weekly IOM Admin meeting, where the entire team runs through everything completed in the past week, and new assignments are given out. It's a chance to check in with everyone on individual projects, discuss any questions or concerns, and clarify next steps for every team member. Sometimes, this meeting is extended, such as one particular meeting where I had an introductory lesson on book cover design. Throughout this time, I also schedule meetings with talent to discuss particular progress stages for their upcoming books, including illustration/interior design, manuscript editing, and even contract signing.

3:00PM — The more independent and productive part of my day begins. If I have a big assignment, such as a preliminary edit of a manuscript, designing a mock-book cover, or creating talent feature content for social media, I start it now. This is where my time management skills are tested, because no one is checking in on my progress other than myself. I take a lot of pride in making sure all of my assignments are done with care and on time, so starting them early leaves room for me to send everything to Martina and Ari for feedback. I also take this time to make sure I've sent all necessary emails to talent and/or the IOM team and schedule any future meetings. Once I check my email, I sign off for the day, and take some time to relax and enjoy my evening. 
I hope you enjoyed a brief glimpse into the life of an IOM intern. It has been an incredibly rewarding and challenging experience that I feel has set me up for success in whatever career I pursue after graduation.