'Step Into the Spiral' with Kate Brenton
February 1, 2022

-

February 28, 2022

$97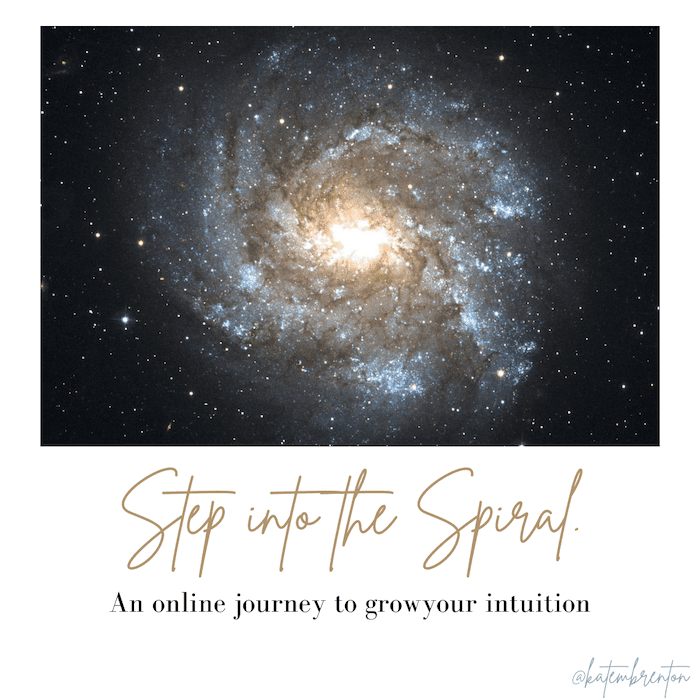 Step Into the Spiral: Build Your Intuition, Build Your Confidence
In this 4-week online coaching journey, you'll learn to anchor your mindset on life's infinite interconnectedness, deepen the learned muscle of intuitive listening (which we all have), and shift from seeing limits to possibilities. We are spiritual beings whose growth spirals infinitely onward, when we carry this perspective with us daily—life expands. Learn More.
ARE YOU READY TO?
Create space through meditation
Increase calm
Fortify your ability to hear + trust your own knowing
WEEK ONE: CLEARING SPACE FOR INTUITION — February 5th 1 – 2:00 pm est
Clear your mind, body and space
Release one expectation to the Circle
Relearn the language of Intuition
WEEK TWO: CONNECTING WITH ELEMENTAL WISDOM — February 8th Q + A 12- 12:30pm est
Morning practice of direction
Importance of place
Relearning the language of Nature
WEEK THREE: BOUNDARIES + HOLDING POWER IN THE BODY — February 15th Q + A 12- 12:30pm est
Refining body communication
Learning three different kinds of No.
Learning to cycle and clear energy
WEEK FOUR: COURAGE TO WALK IN GRACE — February 19th 1:00 – 2:00pm est
Opening communication to your clearest self
Generational Spirals
Walking the wisdom of the Spiral
Setting space for new horizons
All Zoom calls are recorded + posted within 24hours. Many attendees fluctuate between live and watching at their own ease.
WHAT TO EXPECT
All the little things we have learned, or wanted to attend to (learning how to love our body, having a mini-meditation practice, stretching at night, elevating your self talk) are the little steps to big changes. It's not logical. It's love. Learning moves in quantum leaps. You can leap with us:
Learn practical techniques to tune in and align with your body
Create a personalized meditative routine to maintain and cultivate a higher frequency mentally, physically, emotionally and spiritually.
Have fun! Online spaces can be sacred and dynamic, such as this one. Joy is the antidote for many things + community is a human necessity.
You'll remember that you are connected to more than meets the eye.
Receive invitations into the archetypes of stories, mantras, meditations, + practices to help embody the whispers of your wisdom and the spiral.
Weekly classes end with community Q + A time
Classes will be recorded + replay sent