Writer, counselor, and healer Joanna Quargnali-Linsley's The Seasonal Table collection of cookbooks is now complete! Quargnali-Linsley believes food is medicine and encourages us to think about our physical and mental health in what we eat. In her series, she shares her favorite recipes throughout the four seasons. Follow along as we share one recipe a month in our blog, or get them all by purchasing your own copy of her books.
---
Beef and Barley Soup by Joanna Quargnali-Linsley
What started as a Pandemic lunch turned into a comfort food bit of magic!
I love this so much because I can basically use anything I have in terms of vegetables, meat, and stock, and end up with a bowl of hearty, warm deliciousness that feels like I am sitting at my Grandmother's table.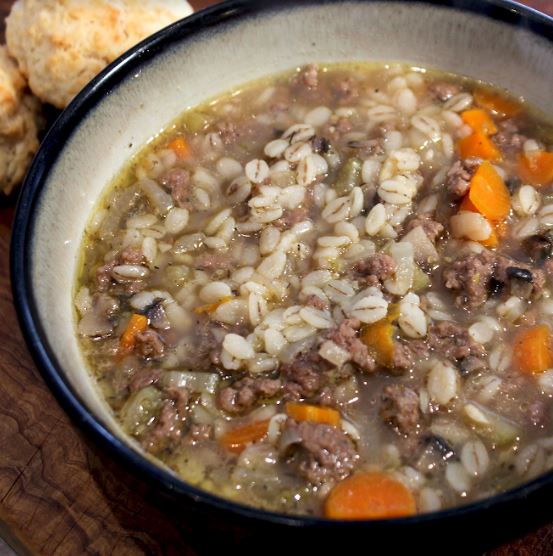 INGREDIENTS


Makes about 4 servings(can be made vegetarian)

2 cloves of garlic minced
1 large carrot cut into small cubes
1 large stalk of celery cut into small cubes
6 mushrooms cut in half and sliced
1 half an onion diced
½ pound ground beef
3-4 cups stock, or water and bouillon - your choice of flavor (chicken, beef, pork, veggie)
Salt
Pepper
Other spices you might have like thyme, rosemary, oregano (generally I start with ¼ teaspoon of any herb or spice and then smell and taste to see if I need to add more)




DIRECTIONS


In a soup pot, add the stock, garlic, carrots, celery, and mushrooms, and lightly sauté until garlic is beginning to brown. Add broth and stir.

Brown the ground beef and onions in a large sauté pan. I dumped some red wine in to scrape up all the bits before I added this to the soup. Dump all of that into soup.

Simmer for about 30 minutes. Add 1 cup dry barley. Simmer for another 15-30 minutes, adding additional water as necessary.

Finish with a sprinkle of lemon, and parmesan.