Writer, counselor, and healer Joanna Quargnali-Linsley's The Seasonal Table collection of cookbooks is now complete! Quargnali-Linsley believes food is medicine and encourages us to think about our physical and mental health in what we eat. In her series, she shares her favorite recipes throughout the four seasons. Follow along as we share one recipe a month in our blog, or get them all by purchasing your own copy of her books.
---
Pear and Blackberry Crumble by Joanna Quargnali-Linsley
Combining the late, tart blackberries of summer with sweet, sticky pears of autumn into a dessert lets me appreciate the best of what was and the best of what is coming.
I never think to make crumbles in any other time of the year, but autumn screams for these blends of seasonal fruit, hot and juicy, to finish off a meal and send us all to bed feeling cozy.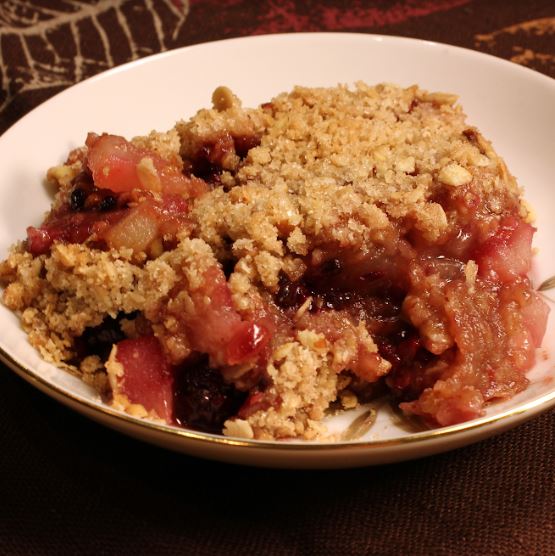 INGREDIENTS


Filling
4 pears, peeled and cut into ½ inch chunks
1 pint blackberries, cut into halves or quarters
2 tablespoons orange juice
Zest of 1 orange
1 tablespoon flour
1 teaspoon vanilla
¼ cup brown sugar
¼ teaspoon salt
¼ teaspoon ground cloves

Crumble
6 tablespoons flour
¼ cup brown sugar
¼ cup sugar
½ teaspoon cinnamon
½ teaspoon powdered ginger
¼ teaspoon salt
½ cup oats
⅓ cup chopped pecans or other nuts
4 tablespoons butter, cold and cut into small cubes



DIRECTIONS


Preheat the oven to 350°F.

Prepare a 9 X 9 inch baking dish by greasing it well with butter.

Prepare the Filling:
In a large bowl, gently stir the pears, blackberries, orange juice, orange zest, flour, vanilla, sugar, salt and cloves.

Prepare the Crumble:
In a medium bowl, combine the flour, brown sugar, sugar, cinnamon, ginger, salt, oats and nuts. With your hands, rub the butter into the topping until the whole mixture has become sand-like and the butter is well distributed.

Assemble:
Place ¼ of the topping mixture in the bottom of the pan.  Pour the filling into the pan. Sprinkle the remaining topping over the filling in an even layer.

Bake for 45 minutes until the filling is bubbly and the topping is brown.