Writer, counselor, and healer Joanna Quargnali-Linsley's The Seasonal Table collection of cookbooks is now complete! Quargnali-Linsley believes food is medicine and encourages us to think about our physical and mental health in what we eat. In her series, she shares her favorite recipes throughout the four seasons. Follow along as we share one recipe a month in our blog, or get them all by purchasing your own copy of her books.
---
Corn Chowder by Joanna Quargnali-Linsley
There is a moment when the air smells just right, and I know it's time to make corn chowder.
The mix of smoky corn from the grill, and thick cream… the combination of open windows and a thick hoodie… Corn chowder is my ode to the transition from outside to inside, from too hot to too cold, and from all the sunshine, to dark hibernation.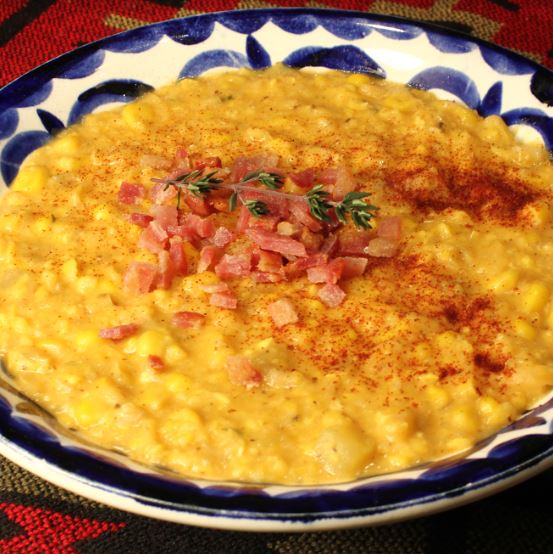 INGREDIENTS


2 slices bacon
3 tablespoons butter
½ onion, diced
2 cloves garlic, minced
2 small to medium potatoes, cut into ½ inch cubes (yellow starchy potatoes work best)
½ teaspoon fresh thyme, minced
1 teaspoon mild powdered New Mexico red chile
½ teaspoon salt
½ teaspoon pepper
1 ounce cream cheese, room temperature or slightly warmer
3 cups corn kernels
1–2 cups water



DIRECTIONS


In a large soup pot, cook the bacon. Remove it, leaving the grease, and chop the bacon into small pieces. Set the bacon bits aside.

Into the pan with the bacon grease, add the butter over medium heat. Sauté the onion, garlic, and potato for 3–4 minutes, making sure to scrape up the bits left over from cooking the bacon.  
Add the thyme, red chile, salt and pepper, and cook for 30–45 seconds.  Add the corn, combine, and cook for another minute or so. Add 1 cup of water, cover, and allow the soup to simmer until the potatoes are knife tender.
Blend ½ of the soup using an immersion or stand blender. If you use a stand blender, blend in batches, being careful because the soup will be hot. Combine the blended portion with the rest of the soup. 
Add the cream cheese, and stir to combine. Taste and add salt as needed.
Thin the soup with water to your desired consistency, and stir.