Writer, counselor, and healer Joanna Quargnali-Linsley's The Seasonal Table collection of cookbooks is now complete! Quargnali-Linsley believes food is medicine and encourages us to think about our physical and mental health in what we eat. In her series, she shares her favorite recipes throughout the four seasons. Follow along as we share one recipe a month in our blog, or get them all by purchasing your own copy of her books.
---
Sausage and Apple Pot Pie by Joanna Quargnali-Linsley
Inspired by a day at the pumpkin patch, this pot pie is loaded with flavors that scream Halloween, and crisp nights, and bonfires.
The mix of sweet (from the apples) and savory (from the sausage) topped with thick buttermilk biscuit is the perfect balance of flavors, textures, and fats to make us feel warm, loved, and ready for a few last adventures before it is truly too cold to spend our days outside.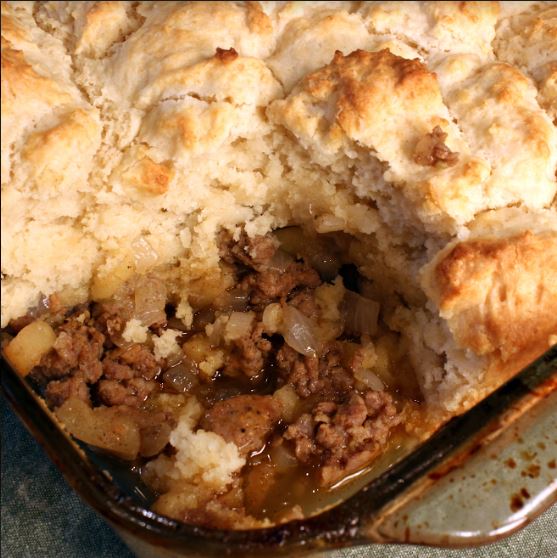 INGREDIENTS


Biscuit Topping
2 cups flour
2 teaspoons baking powder
½ teaspoon baking soda
1 teaspoon fine sea salt
8 tablespoons cold butter, unsalted, cut into small cubes
1 cup buttermilk
1–2 tablespoons milk (whole or skim)

Filling
1 pound Italian sausage, mild or hot
2 medium apples, peeled and cut in small cubes (about 2 cups)
1 medium onion, diced (about 1 cup)
1 teaspoon cinnamon
Preheat the oven to 400°F.
DIRECTIONS


Prepare the Biscuit Topping:
In a medium bowl, combine flour, baking powder, baking soda and salt. Add the cubed butter to the dry biscuit mix. Using your fingers and with a light touch, rub the butter into the flour mixture until it resembles sand. Set aside. This will speed up the assembly of the pot pie after the filling is prepared
Prepare the Filling:
In a large pan, brown the sausage.  It does not need to be fully cooked, as it will go in the oven later. Remove the sausage, leaving the grease in the pan.
Sauté the apples and onion in the sausage grease until they are soft, about 5–6 minutes. Add the cinnamon and sausage to the pan and stir for 30 seconds.
Assemble the Dish:
Stir in the buttermilk and 1 tablespoon of milk into the butter and flour mixture.  The batter should be very firm but still uniformly wet. If it seems too dry, add the other tablespoon of milk. 
Pour the contents into a casserole dish and top with biscuit dough.  I like to drop globs of dough, while my husband likes a nice smooth topping.  
Bake for 25 minutes.