Writer, counselor, and healer Joanna Quargnali-Linsley's The Seasonal Table collection of cookbooks is now complete! Quargnali-Linsley believes food is medicine and encourages us to think about our physical and mental health in what we eat. In her series, she shares her favorite recipes throughout the four seasons. Follow along as we share one recipe a month in our blog, or get them all by purchasing your own copy of her books.
---
Farm Chocolate Cake by Joanna Quargnali-Linsley
This cake tastes like the essence of all good summer parties.
My Grandma Ginny only made it a handful of times during my lifetime, but its story goes back to her childhood and her happy memories of days at the lake, lazy Sundays at the farm, and those "just because" special days that happen in summer.
Every bite feels like being wrapped in the most immense love and joy.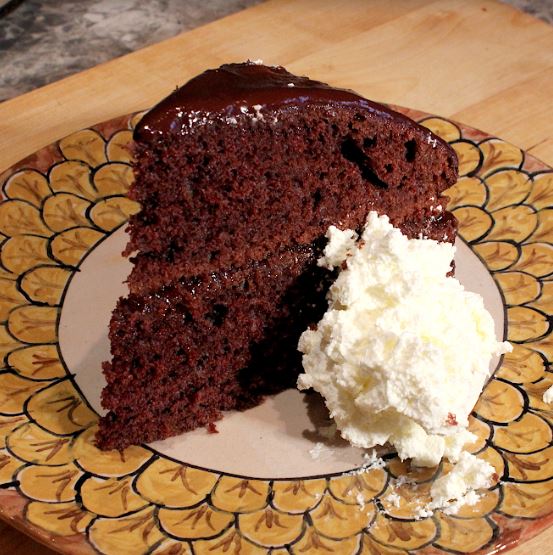 INGREDIENTS


1 cup butter
⅓ cup cocoa powder
2 tablespoons chocolate chips
1 teaspoon salt
1 cup water
2 cups flour
1 ¾ cups sugar
1 ½ teaspoons baking soda
2 eggs
½ cup sour cream
1 teaspoon vanilla

Cake Filling
1 cup jam, whipped cream, or other filling of your choice

Glaze
½ cup heavy cream
4 ounces chocolate chips
1 tablespoon butter



DIRECTIONS


Preheat the oven to 350°F. Prepare two 9-inch round cake pans by greasing the sides well with butter or olive oil. For best results, line the bottoms of the pans with parchment paper rounds.

Prepare the cake batter:
In a saucepan over medium heat, melt the butter. Add the cocoa powder, 2 tablespoons chocolate chips, salt, and water. Stir the mixture until it is melted and well combined. Turn off the heat and set the mixture aside.

In a large bowl, whisk together the flour, sugar, and baking soda. Slowly pour the melted butter and chocolate mixture into the dry ingredients and mix as you go. When this is all combined, add one egg at a time, mixing well. Last, gently stir in the sour cream and vanilla. 

Pour half of the batter into each of the prepared pans and bake for 40-45 minutes, until a toothpick comes out clean. Let the cake rounds cool for 5–10 minutes, then remove them from their pans and allow them to cool fully on a wire rack or plate.

Prepare the glaze:
Heat the cream in a small saucepan until steaming and just about to boil. Pour the cream over the chocolate chips and stir until smooth, then add the butter and stir until combined. Set aside to slightly cool while you assemble the cake.
  
Assemble the cake:
Place one cake round on a serving plate. Top the round with jam, whipped cream, or a filling of your choice and smooth it into an even layer. Place the second round on top. Pour the glaze over the fully cooled cake. If the glaze is too thick to pour, warm it gently over low heat, stirring constantly.