Each month, author Jess Cleeves shares 12 of her most important points of advice on reclaiming passion.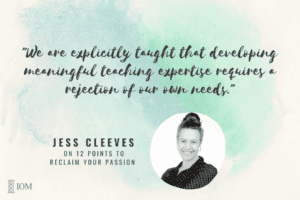 ---
We are explicitly taught that developing meaningful teaching expertise requires a rejection of our own needs.
Rather than subscribing to the martyr-educator model, it's our obligation to acknowledge that we hurt ourselves, our students, and our profession when we sacrifice our own well-being.
Excerpt from Planning to Stay:
A major component of extreme self-care is the acknowledgement that you are a part of a system and that your participation impacts that system. If you are willing to martyr yourself to a spartan regime in which you'll meet only your basic physiological needs during the school year, and you'll wait for summer to have fun, be curious, nurture relationships, and fully inhabit your humanity, you're much more likely to do the same to your students. …
I can also confirm that student outcomes improved dramatically when I started sharing the good parts of grading and martyring myself less with the parts that served neither students nor myself. …

Excerpt from Planning to Stay © 2022 Jess Cleeves.