by Winter Murray
Today, we're excited to give you a look behind the scenes and shine the spotlight on one of the talented members of the IOM family: Kelly Ulrich.
Kelly is a children's book author and illustrator from the west coast of British Columbia, Canada. For the past 15 years, she has been involved with teaching art to students of all ages on Vancouver Island and in the Vancouver area. Although she has illustrated a variety of children's books, Kelly's first book with IOM, The Dublin Fox, which she wrote and illustrated herself, was published in August of 2020, and she has many more exciting projects in the works!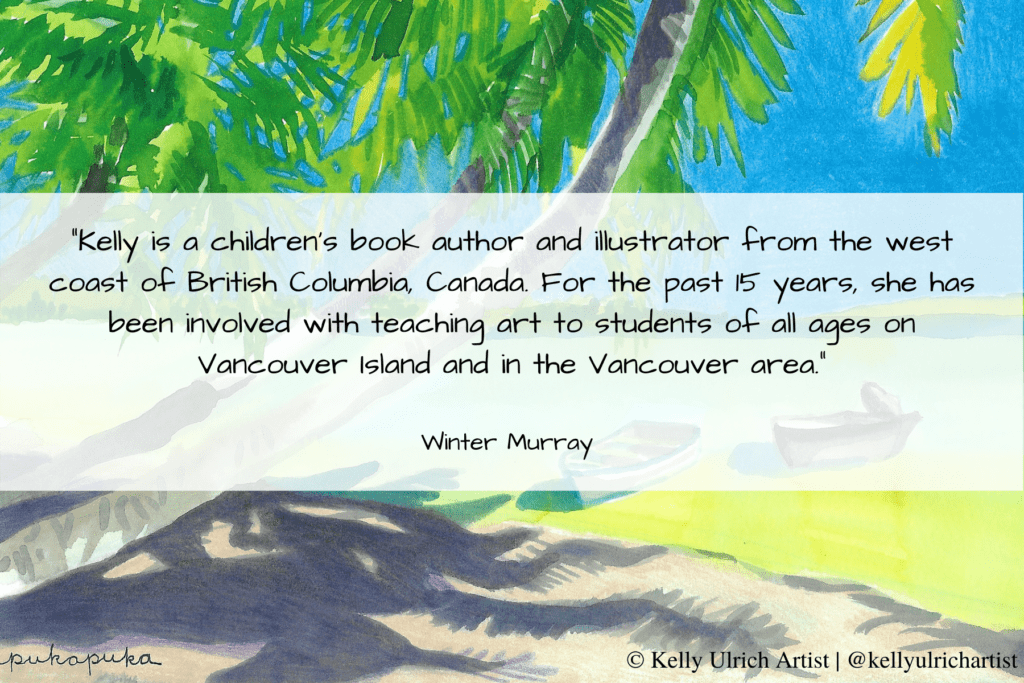 Kelly has always loved drawing and illustrating stories, and it was this love that inspired her to take her artistic talents in a storytelling direction. When she reads or writes a manuscript, she immediately sees how the story would translate into art in her mind's eye. She puts that vision onto paper by sketching out a rough pencil drawing based on reference photos she finds online, then she sketches an appropriate background and cobbles it all together. When she's happy with the pencil version, she likes to work her magic with watercolors, before highlighting certain details with pencil crayon.
When writing her own stories, Kelly usually draws inspiration either from her past or from a present interest. Whether it's an anecdote from a friend or just a single word, inspiration is impossible to premeditate, and she never knows when she will strike gold. In her own words, "The Dublin Fox idea came from my friend who went to Ireland for Christmas. She told me a fox ran across her path as she was walking on the sidewalk. That was all it took."
Kelly's fascination with the relationship between art and storytelling has spanned her whole life. Since Kelly was young, she's viewed art as the "icing on the cake" of a well-told story. She describes the combination of stories and art as "magic," and she hopes to share that magic with her audience. Through her work, Kelly hopes to create unforgettable moments in a child's life and instill a love of reading, books, and art in audiences both young and old.
She recalls a book called Pookie by Ivy Wallace, of which she still has a copy. Pookie is the first book in a series about a little white rabbit with wings. In the first book, Pookie's wings are tiny and crumpled, but when you get to the last illustration, Pookie is flying free in the sky with a set of beautiful pink, gold, and blue wings. She describes it as "the most beautiful picture [she] had ever seen." This is exactly the kind of magic that Kelly hopes to share with her readers: "Then we can all feel like that little white rabbit… flying above the cloudless sky with our beautiful wings."