by Winter Murray
Today, we're excited to spotlight one of the newest members of IOM's talented family: Lara Jackson.
Lara is a conservation biologist who has worked with wildlife in regions like East Africa, Belize, Madagascar, and Zanzibar. Lara is passionate about preserving the national world, and she believes that raising awareness and increasing engagement is the key to successful conservation efforts. Her commitment to raising awareness about conservation is what led her to IOM, where she has more exciting projects in the works.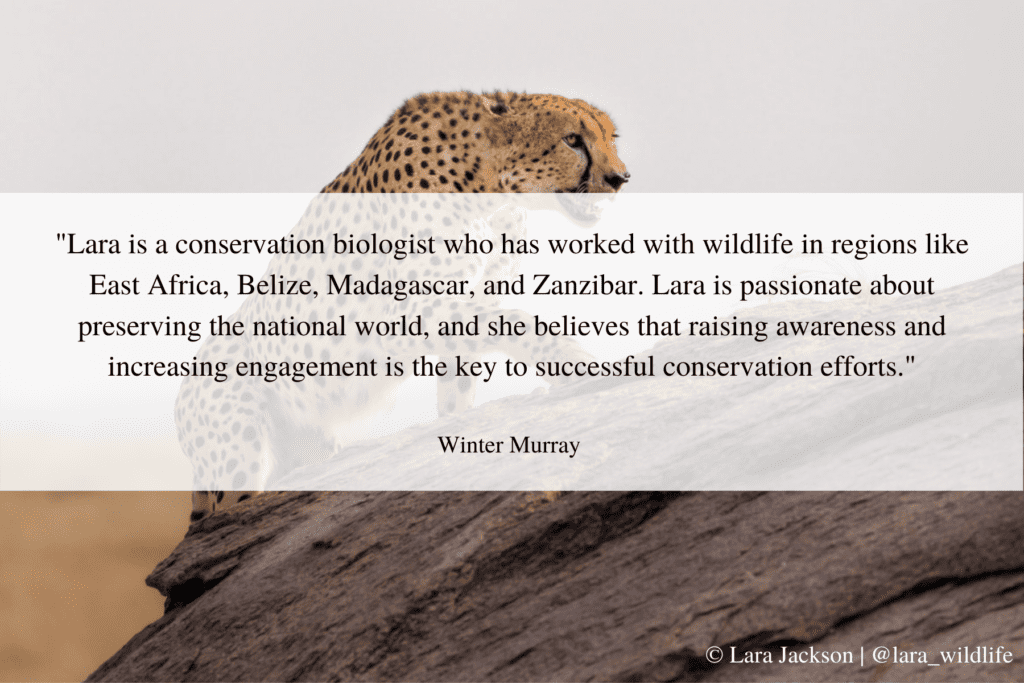 Lara's passion for nature and conservation began at a young age, and she has always known that she wanted to work with animals. Although she initially wanted to be a vet, she eventually switched tracks and obtained an undergraduate degree in Zoology. After undergrad, she embarked on a research master's in Wildlife Conservation. Her research eventually led her to Africa, where she studied black rhinos, and she's never looked back. In her own words, "…I don't think you can fully appreciate the scale of the issues until you study them in depth and see them with your own eyes."
Lara's experiences in the field have made her more determined to raise awareness about conservation. She draws her creative inspiration from her work in the natural world: "I'm inspired by the incredible beauty of nature, the creatures from the smallest insect to the largest land animal that have all evolved over a millennium to thrive in certain environments, the patterns that always emerge no matter what country you're in…" Lara is also inspired by the people she's met along the way, who she describes as "brilliant and dedicated," and who give her hope that it is possible to reverse the damage that humans have done to nature. It's her work and her colleagues that have motivated her to apply her talents to storytelling. Through stories, she hopes to engage with a wider audience by showing them the kind of impact we are having on the natural world.
Lara has found that creativity can't be forced, it has to come to you naturally. Of her writing process, she says, "I honestly felt like the story had come from deep inside me, as if it was always there waiting to be put on paper." When inspiration strikes, she makes sure to scribble her thoughts down, and she finds that these snippets come together naturally to create something she is proud of.
Through her writing, Lara hopes to open dialogue about conservation and encourage people to stop and think about how their actions have far-reaching impacts on wildlife. Thinking about animals who are native to a different continent can sometimes feel too abstract, so Lara hopes that her audience will begin to think about the wildlife all around them, because "[b]y getting people to forge a connection with the natural world, they will be more inclined to fight for it…" Ultimately, the "…goal is to get people to care. Without people caring, without them feeling upset by what's happening to our wild spaces and our wildlife, we cannot create change, we cannot change the way the story ends."