With the advent of digital printing, Print-On-Demand (POD) services have popped up all around the world, giving a much further reach to its user base and their customers. Additionally, POD has been growing in popularity in recent years as it has expanded into numerous industries beyond books and publishing, such as tee-shirts, mugs, and other decorative accessories, creating greater opportunity. From a publishing perspective, POD is a game changer in the industry. 
Historically, all books were printed in bulk at one time (hence you have "editions") using letterpress or offset printing, before being stored in a warehouse for distribution as orders from retailers trickled in. These warehouses needed to be climate-controlled and staffed in order to meet these needs, which means that whether a book had a purchaser or not, it was made.
In many ways, publishing was a game of chance as a result of this limited printing process. The longer a book sat on a shelf, the less likely it was to benefit the publisher… or the author. This type of publishing meant that publishers had to hedge more often, possibly incurring more expenses and utilizing more resources than it would want. We personally believe this has contributed to the ridiculously low royalties authors receive. After all, someone needs to pay for the electric bill and staff at the warehouse.
Since POD became available—and since the process has been refined—it is no longer necessary to store books hoping for purchases. Now, with POD, when a book is ordered, it's produced. It's a 1:1 ratio of supply and demand, with no waste.
This is the single most important reason why we, at IOM, have decided to embrace Print-On-Demand as part of our corporate strategy: No Waste. From an ecological standpoint, it's the right thing to do. It means that 
we aren't using resources to print copies that haven't been purchased yet;
we aren't keeping boxes and boxes of books in climate-controlled facilities waiting for someone to make a purchase and wasting electricity; and
we aren't wasting resources on shipping, because the item is shipped once, from manufacturer to customer.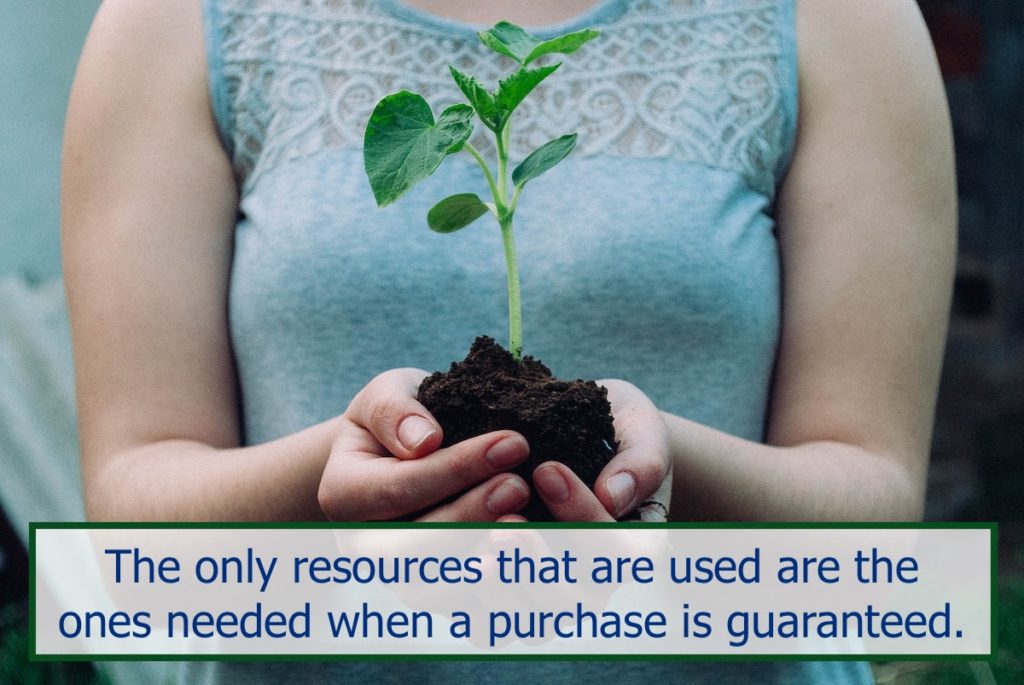 The only resources that are used are the ones needed when a purchase is guaranteed. Of course, this can create some challenges—such as longer delivery times and decreased profit margins—but we think it's worth it, if it means a healthier planet and a more sustainable process. And, of course, we hope you'll agree.
The biggest hurdle to utilizing POD services is customer perception. Unfortunately, in today's age we've grown accustomed to instant gratification and overnight or same-day deliveries, which has taken a toll on the world around us. Therefore, it's part of our goal at IOM to help our customers understand that when they purchase a product from us, they're doing so knowing that they are making a smarter selection, one that had the planet in mind when it was created. It might mean they have to wait a little bit longer, or pay a slightly higher shipping fee, but it's worth it. Because, when science and technology offer us new ways to accomplish the same goals—and these new systems support a cleaner greener planet—it's well worth our investment. 
Have you checked out our shop? Whether it's a mug, tee-shirt, a poster, or anything else, we create our products to be "touchstones" on the journey of life. More than products, we also develop programs with our authors and artists and have plans for more. You can visit our product shop here.